5 Unusual Wedding Reception Entertainment – Live Music
Here are some of out top ideas for unusual wedding reception entertainment
Getting unusual wedding reception entertainment right is a really important task. While the newly-wed couple may be off having their photographs taken, your guests can enjoy live music during the drinks and canapés.
Classical music is traditional during the Ceremony, but many musicians can also play a wide range of popular music, jazz and songs from the West End. You may want to consider having something more upbeat like a Latin guitar duo, jazz duo, pianist, solo singer or saxophone player.
Top Tip: Save some money by booking the same act for the ceremony and drinks reception as the cost of an extra hour or so is always going to be cheaper than hiring to different acts. Maybe your classical musician can play modern popular music during the reception.
Looking for unusual wedding reception entertainment?
Mexican Mariachi Band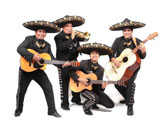 Bring a Mexican vibe and make your reception into a Fiesta with a Mariachi band.
They can perform acoustically without the need of a PA system and can mingle and walk amongst your guests, serenading them with classic Mexican songs as well as pop songs in a Mariachi style.
Unusual wedding reception entertainment idea No 1: Mariachi Bands
African Kora Player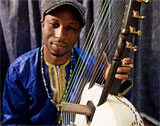 Ambiant African music – the Kora is a beautiful sounding West African harp with 21 strings. Kora players traditionally come from "griot" families and the instrument has been made famous throughout the world by players like  Toumani Diabate.
The Kora is perfect for creating a background ambience that is both unusual and beautifully melodic.
Unusual wedding reception entertainment idea No 2: Kora Players
New Orleans Jazz band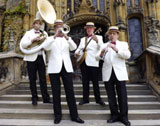 A brass band is a great fun and unusual option – they don't require amplification so can also be free to play outside.  Dixieland Jazz or New Orleans jazz began at the start of the 20th century and brought together French Quadrilles Marching bands with ragtime and blues.
Well-known Dixieland songs include "When the Saints Go Marching In" and "Basin Street Blues".
Unusual wedding reception entertainment idea No 3: New Orleans Jazz Bands
Solo Swing Singer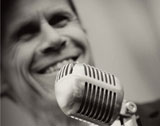 A solo swing singer or Rat Pack singer is both engaging and great for all ages. Get the sound of a band but with a solo swing singer using a backing track. Songs will include the music of Dean Martin, Frank Sinatra and Sammy Davis Junior as well as classic modern Bublé hits.
Unusual wedding reception entertainment idea No 4: Solo Swing Singers
Caribbean Steel Band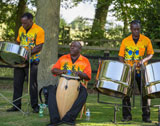 Steel Pan Bands or Steel Bands are the cool and tropical alternative to the traditional reception music for weddings and parties. Bring some Caribbean flavour to your wedding and serve your guests Rum cocktails instead of champagne!
Unusual wedding reception entertainment idea No 5: Steel Bands
We offer all kinds of acts and are really happy to offer advice over the phone as well: 01273 944363