Flamenco dancers for hire – Spanish themed event entertainment
Flamenco Dancers for Hire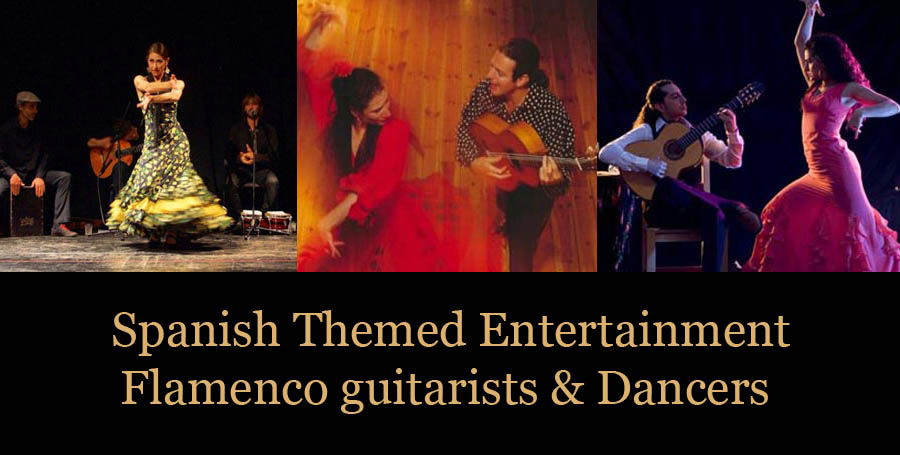 Our Flamenco dancers and musicians will turn an ordinary Spanish themed affair into a gala Spanish fiesta.
Our Flamenco dancers are mostly from Spain and our English dancers have trained extensively in Spain learning the art of flamenco from the Spanish maestros in Andalusia.
This Sussex Flamenco Dancer and Guitarist duo are a really popular choice and below is some feedback for an event: http://www.findaperformer.net/act/68
"The flamenco dancer and guitarist were fantastic and really made my husbands birthday! They were punctual and very friendly and we made them welcome and had the most enjoyable evening! We are all suffering today but worth it ! Thanks again" Johanna & Paul Spiller
Book a duo of guitarist and dancer or a larger group to include singers, percussionists and extra dancers. Our troupes consist of trained bailadores being the dancers, cantadores who are the singers and of course the tocadores, the guitarists who will perform live at your venue.
You have the option of either hire a flamenco dancer, or singers or simply the Spanish guitarist and if you hire all three then you are in for more than just a foot stomping, foot tapping and clapping experience
Our flamenco guitarists are all experts in playing the golpes, alzapua, rasgeuado, picado as well as the tremolo styles of the flamenco and will be a big hit with both the young ones and elders.
So get your stomp on and enrich your fiesta with a traditional Flamenco show!
Find a Performer has been booking Flamenco shows since 1999 and has acts in most UK locations. Call us for a quote or book online: http://www.findaperformer.net/flamenco-dancers-groups