5 Unusual Wedding Entertainment ideas
Looking for Unusual Wedding Entertainment?
Here at www.findaperformer.net we offer a large range of interesting ideas for unusual wedding entertainment for your special day.  Below are a few suggestions but if your wedding has a particular theme visit our website for more ideas. We have a huge selection of acts for many international themes as well as Gatsby themed entertainment and many others.
Fire Shows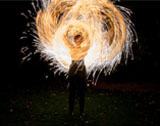 Fire is a great choice for events that want to create a big impression, with spectators being drawn to the danger and daring of the flames. Gather all your guests outside before the band starts performing and our fire performers will create a spectacular show. They will amaze everyone through up close skills, such as body burning and fire eating.
These choreographed shows are the ultimate fire displays, combining movement, music and flames in a slick and impressive package. These set pieces showcase the best of the entertainers' skills, and are designed to engage the audience as a main event.
Unusual wedding entertainment idea number 1: Book a Fire Show
Caricaturists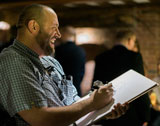 Hire a Caricaturist for your wedding, party or corporate event – it's fun for everyone and your guests will have a memento to take home with them. Hiring one of our Caricaturists will make your event completely unforgettable! Some of our Caricaturists can offer iPad or big screen drawings and if you are organising a business or corporate event, why not hire one of our Caricaturists to design your name badges?
Unusual wedding entertainment idea number 2: Hire a Wedding Caricaturist
Singing Waiters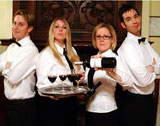 Liven up your event with one of our teams of Singing Waiters! The secret  singers will arrive approx. 1 hour before the guests and set up the discreet PA system in the room. The singers will be dressed exactly the same as the venue waiting staff and will help serve drinks and various courses. Then when no-one is expecting it they burst into song with a short show!
Unusual wedding entertainment idea number 3: Hire Singing Waiters
Silhouette Artists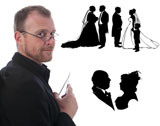 Hire one of our fantastic silhouette artists to cut silhouette images of all your guests during the drinks reception or meal. With just a pair of scissors and black paper they will produce on-the-spot silhouettes of your guests for them to take home.
The art of cutting portrait silhouettes became popular in the mid-18th century but they are quite a rare breed.
Unusual wedding entertainment idea number 4:  Hire a Silhouette Artist
Magicians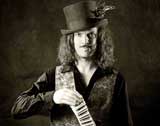 A close-up magician can work their way around your guests during the welcome drinks and perform their magic to small groups, or visit each table during a sit-down meal.
Some magicians can also offer a cabaret performance or even a show to entertain the kids.
Unusual wedding entertainment idea number 5: Hire a Magician
It's as easy as a click of the mouse to book a number of acts from each of these categories, just visit our website over at www.findaperformer.net