Our Love Island Guests
Did you see last Sunday's Love Island guests on the 'Aftersun' episode? If so, you will have seen our fantastic Fiesta Band and Spanish dancers pop up at the end! Here at Find a Performer, we love a last-minute challenge to keep us on our toes. So last week when ITV contacted us looking for a Spanish Band to be their all-singing, all-dancing Love Island guests on Sunday 21st July, the search was on. We have a wide range of Spanish and Latin Bands specialising in all different styles and we knew ITV wanted a band with a 'Gypsy Kings' style so we contacted our brilliant London Fiesta band.
Our fantastic and experienced Spanish and Latin band specialises in the authentic sound of the Gipsy Kings and other well-known Latin hits to create the perfect atmosphere for any occasion. They can provide a range of music from gentle background flamenco/classical guitar to lively instrumental dance music. They have years of experience and have performed at numerous prestigious venues, festivals and events around the world.
ITV then decided they wanted to add a couple of dancers into the mix so we suggested our brilliant Spanish Dancers who are part of a large professional dance company which offer a huge range of themed performers with one of their specialities being Spanish and Latin Dancers. Our professional Spanish dancers perform in beautiful red Spanish inspired dresses with superbly choreographed routines to wow audiences. We knew they would be a perfect fit with our London Fiesta band. Our dancers are also huge fans of the show, so they were delighted to be Love Island guests for the evening.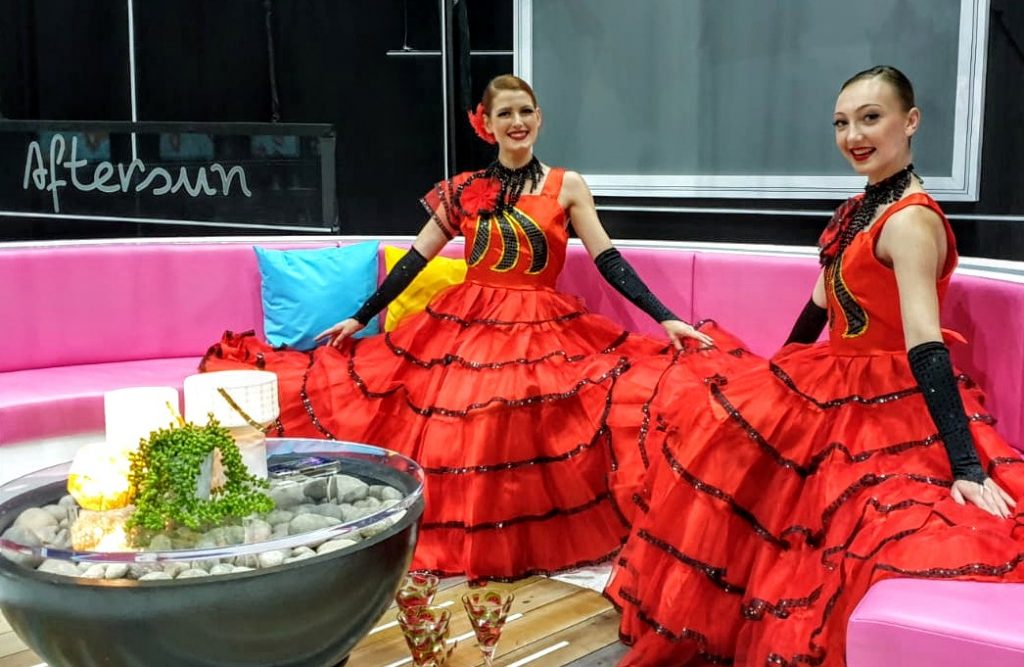 We especially loved the moment the musicians popped up from behind Caroline Flack's sofa and enthusiastically played the classic Gypsy Kings song Bamboleo. Caroline Flack and the rest of the team began dancing with maracas and were then joined by our fabulous dancers!
---
This heatwave must be spreading Latin Fever as one of our other exceptional Latin bands performed at the recent opening night of 'On Your Feet' at Londons Coliseum back in June. Check out their fabulous performance on the red carpet with Gloria and Emilio Estefan here!