Mike Dawes Guitarist – Fairkytes Live Concert
Mike Dawes Guitarist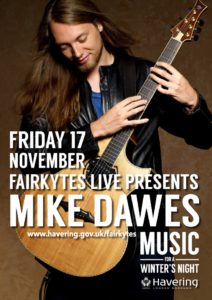 Last month we booked UK guitar superstar Mike Dawes at The Fairkytes Arts Centre in Hornchurch and the gig was a great success! If you haven't seen Mike play, check out his videos below including the official video for 'One' by Metallica. He tours across the globe as a solo acoustic guitarist but is also touring with Justin Hayward of The Moody Blues as his guitarist and warm up act.
Here's what venue marketing manager Tony Matthews had to say about the event:
"What can we say? Wow! Mike's reputation for prodigious technique preceded him and there was no shortage of 'guitar guys' in the audience itching to get a close up look. But even more than the fantastic playing, it was Mike's engaging humour and beautiful song choices made it such a hugely entertaining evening for everyone. To see him getting even the more mature members of the audience clapping along to One by Metallica was a sight to see."
Mike Dawes will be touring the UK in Feb/Mar 2018 in support of his second album, ERA. The lead single from ERA, an astonishing cover of Metallica's 'One' almost broke the internet with over 30 million views in a single week. Check out the YouTube version below and listen to the full album online, or purchase signed copies via http://mikedawes.com
Mike had a great concert and emailed us after the event to say
"The show at Fairkytes was an overwhelmingly positive experience. The audience was packed and the staff went above and beyond to ensure the highest in hospitality and technical requirements. I look forward to returning as soon as possible."
Mike Dawes Guitarist Videos
Mike Dawes Guitarist ERA UK Tour 2018
February
17 – West End Centre, Aldershot
18 – Jacaranda (masterclass) Liverpool
18 – EBGBS, Liverpool
21 – Kings Arms, Salford
24 – The Cluny, Newcastle
25 – Hyde Park Book Club, Leeds
26 – Glee Club, Birmingham
28 – Glee Club, Cardiff
March
1 – Live Rooms, Chester
3 – Arts Centre, Haverhill
5 – Marrs Bar, Worcester
8 – Cedars Hall, Wells
9 – Craufurd Arms, Milton Keynes
10 – Union Chapel, London (w/ Martin Harley)
Tickets on sale at http://glasswerk.co.uk

About Fairkytes Live
Established for four years ago, Fairkytes Live brings live performances to The Fairkytes Arts Centre in Hornchurch. It started with local performers, which they have always been keen to nurture, and has now expanded to cover a broad range of genres. It is an intimate and welcoming venue and the friendly vibe has made it popular with artists and audiences.