String Quartets for Weddings
String Quartets for Weddings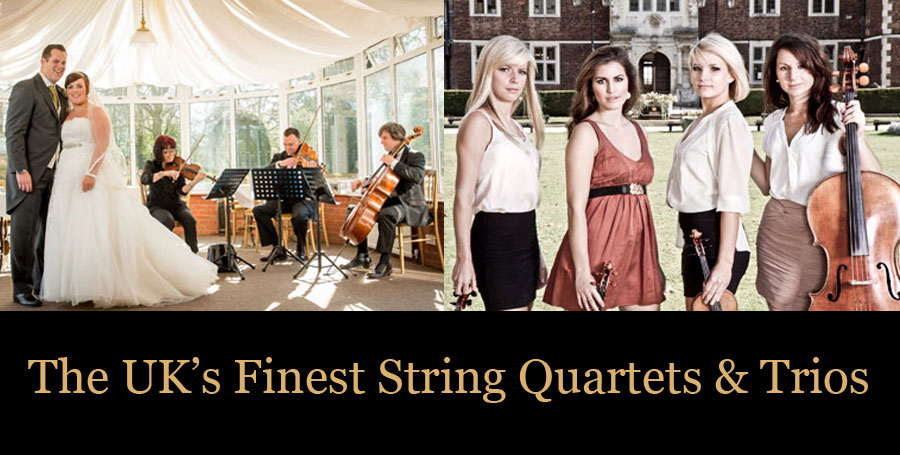 We offer string quartets for weddings in every corner of the UK and our string quartets will set the tone of the occasion. A string quartet sets an elegant and classic tone for any event particularly a wedding or formal event which requires the music to be subtle and gentle without offsetting the occasion.
We represent the best String Quartets for weddings in the UK.
Imagine a picture where you are walking down the aisle to the sweet sound of 2 violins, a viola and a cello playing your favourite set of songs which were dedicated specially to you and your fiancé.
A string quartet is not only a classic choice but it is also the perfect choice to keep the event elegant and graceful. The music is soothing and pleasurable and works as both a focus and as sophisticated background music.
We have over 100 string quartets for weddings in the UK so are perfectly placed to find you the perfect act and we represent some of the finest string quartets around. We also offer string duos and string trios who can perform old timely classics to current modern romantic songs idyllic for stirring the passion and romance between you and partner on your special day.
Our modern string quartets consist of accomplished musicians who are well versed in the present day cover songs belonging to a variety of favourite artists and their repertoire is not only extensive but is also all embracing of classics and present songs.
One of our most popular acts is The Xenia String Quartet in Bristol – here is what some of our clients have told us about them:
"The Xenia String Quartet were fantastic. Their sound was beautiful and they had a really broad repertoire of songs to suit all of our guests. We were both extremely happy and our guests thought the were magical too! Thank you. Mr and Mrs Griffin. "
Stacy Macleod

"The wedding was a great success and the sun shone all day! Thank you for your organisation of the string quartet, who were very professional. They first set up in the hall and played prior to the ceremony and were good enough to incorporate a request from me for the bride's entry. After the ceremony they set up outside and played while the guests enjoyed the sunshine and waited for the wedding meal. I was very pleased and would recommend them to anyone. First class all round"
Graham Cope Llantwit Major, Glamorgan
You can even request for special songs which you want to be played during the event as well as choosing a specific song for your wedding ceremony.
Make your wedding or event special and hire one of our string quartets for weddings today!