What's the difference between a String Quartet, String Trio or String Duo?
Hiring a string quartet, string trio or string duo is the perfect accompaniment to a wedding ceremony, drinks reception or wedding breakfast and any string ensemble immediately adds sophistication to an event. When it comes to wedding planning we know there's a lot to think about so we decided to showcase some of our exceptionally talented string groups for you to help explain how to choose between a quartet, trio or duo.
String Quartet: 2 violinists, viola player and cellist
String Trio: A violinist, viola player and cellist
Piano Trio: A violinist, pianist and cellist
String Duo: 2 violinists or a violinist and cellist

1. How much space do you have?
For wedding ceremonies and wedding breakfasts, you may have to make a tricky choice between how many friends and family you can invite versus how many musicians can also fit in the room! This is not such an issue if you are booking a quartet for the drinks reception as there is no need for a seating plan but if space is tight you might need to have a string trio or string duo.

2. How much do you want to spend?
The more musicians you hire, the more expensive the cost so if you are on a tight budget then a duo or trio may be a better option for you. However, once booked for the wedding ceremony, it may not cost that much more to extend the booking to include the drinks reception.

3. Do you want the musicians to play specific songs?
There are hundreds of arrangements available for string quartets including classical and pop repertoire, jazz standards and songs from the musicals. Fewer arrangements have been created for trios so you will need to check with your musicians to see if they can play any special requests. Many quartets and trios are happy to arrange a piece of music for you but will usually charge a fee for this.

A String Quartet sets an elegant and classic tone for any event particularly a wedding or formal event which requires the music to be subtle and gentle without offsetting the occasion. With over 100 string quartets to choose from, we are perfectly placed to find you the perfect act and we represent the finest string quartets around. For the added wow factor we also have a fantastic range of Electric String Quartets, Trios and Duos available across the UK.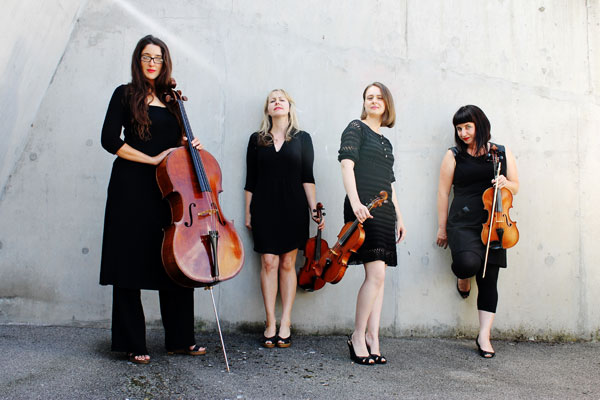 One of our most popular acts is The Xenia String Quartet in Bristol – here is what some of our clients have told us about them:
"The Xenia String Quartet were fantastic. Their sound was beautiful and they had a really broad repertoire of songs to suit all of our guests. We were both extremely happy and our guests thought the were magical too! Thank you. Mr and Mrs Griffin. "
Stacy Macleod

"The wedding was a great success and the sun shone all day! Thank you for your organisation of the string quartet, who were very professional. They first set up in the hall and played prior to the ceremony and were good enough to incorporate a request from me for the bride's entry. After the ceremony they set up outside and played while the guests enjoyed the sunshine and waited for the wedding meal. I was very pleased and would recommend them to anyone. First class all round"
Graham Cope Llantwit Major, Glamorgan
Many of our String Quartets can offer an option of a trio or you can hire a String Trio for your big day. This option is perfect for couples on smaller budgets who still want to enjoy the rounded sound of a String performance.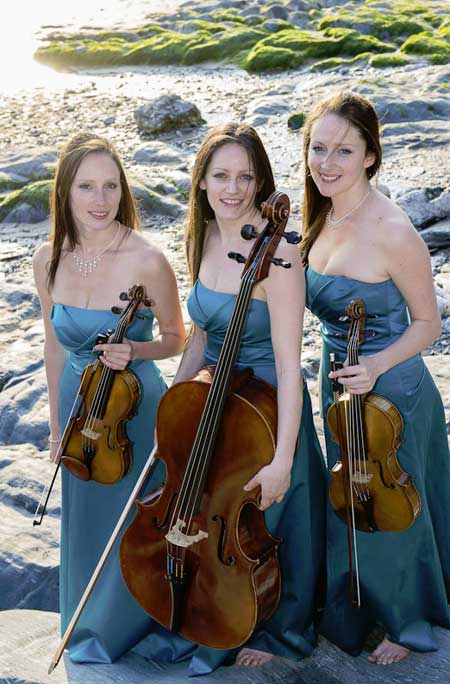 And finally, for smaller venues and ceremonies we suggest a beautifully simplistic String Duo which can comprise of a violin duo, cello duo, violin & cello, violin & guitar or cello & guitar.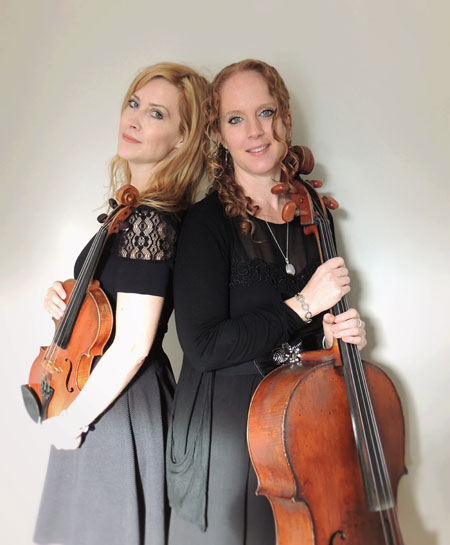 Our modern string quartets, trios and duos consist of accomplished musicians who are well versed in the present-day cover songs as well as much loved classical pieces. Some of them also offer to arrange your favourite song to make your event more memorable.
Make your wedding or special event one to remember with one of our string quartets, trios or duos for weddings today! For more wedding ideas check our recent Wedding Festival Ideas and Inspiration blog.