Medieval themed party entertainment
Looking for Medieval themed party entertainment for your special event?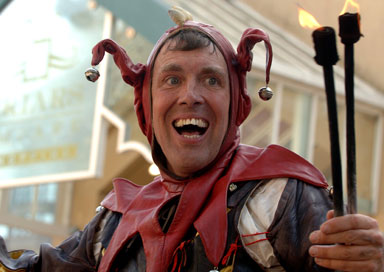 Looking for medieval themed entertainment that'll put your guests into absolute hysterics..? Then you should definitely be interested in our fool Samuel.
This is a fool of international repute, has performed all over the UK and Europe. He is a regular performer at Hampton Court Palace and has also appeared at the Tower of London, and at among others – Stirling, Cardiff and Caerphilly Castles.
In 2002 and 2012 he was fortunate enough to perform for Her Majesty the Queen as part of her Golden and Diamond Jubilee celebrations and in 2005 he became the official English Heritage National Jester.
Medieval themed party entertainment video:
"He was just so professional, amazingly talented and a joy to work with. I was aware throughout his performance that he was constantly being mindful of the welfare and safety of all around him and the premises in which we were working, whilst monitoring the crowd and handling everything so appropriately. His mix of humour and jollity were perfect for the event, he worked in collaboration with the musicians perfectly and helped us make the party an overwhelming success. Had we not had his services the party would have been an entirely different affair – no where near as much fun to behold or work at, and I fear the men would have found it all rather dull. Working with the musicians, together they managed the mix of history, culture and downright hilarity and japes to perfection allowing us to present the food over the whole evening to perfectly fill the time slot. I sincerely hope we all get the opportunity to work together again. Many thanks for all your help. I'll know who to approach if I need any assistance with entertainment in the future!" Call in the Caterers, May 2015
View profile here: http://www.findaperformer.net/act/1064