Ladies Sangeet Entertainment
Ladies Sangeet Entertainment – hire a professional Mehndi singer to make sure your event is lively and fun!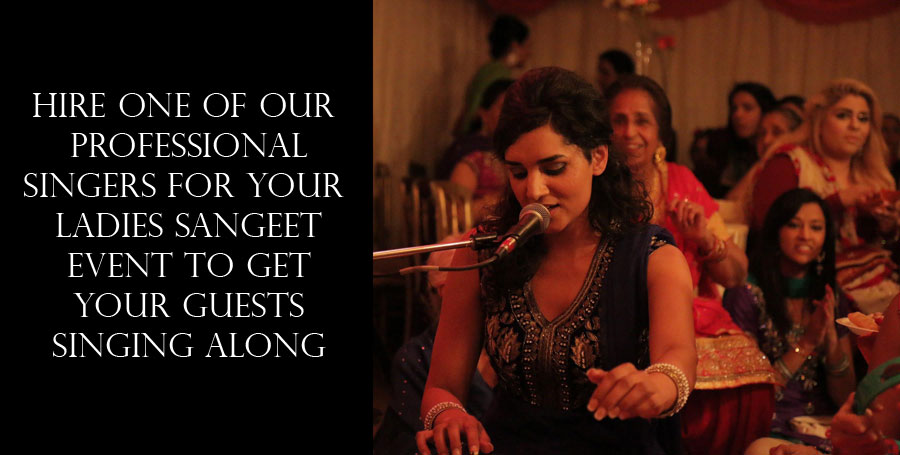 Ladies Sangeet Entertainment
Weddings are special and all about bringing two souls together and uniting them in perfect harmony.  And what is a wedding without live music? Music is an integral part of this harmonious journey so why not hire our professional performers to liven up your special day!
Indian weddings or Indian themed weddings are incomplete without the Sangeet party which is all about 'dhoom' and 'dhamaka'.
The ladies Sangeet function is an integral part of the celebrations where both the bride and groom's families can just let loose with their family and friends before the big day allowing them to enjoy innocent frolicking with the blessings of the elders who take this opportunity to bond with each other.
Hence it is important to choose the right musicians for your Ladies Sangeet entertainment to lift the spirits and take you on an everlasting journey of happiness. Our Sangeet teams include solo ladies' Sangeet singers as well as duos and groups for ladies Sangeet. Their dholak and drum beats will get the party started in no time and before you know everyone from both sides will be swaying to the beats of the best of the wedding numbers from Punjabi folk music or even the latest in Bollywood.
"I came across the site Find a Performer purely by chance and thank goodness I did. Firstly I wanted someone who could actually sing and not some chancer where u couldn't not justify with the expense. I must say that I am so thankful that I came across her as I knew she would be perfect for my daughter's ladies Sangeet night. After some research and listening to some of her tracks on You Tube I knew I found the performer and money was no object. She created the atmosphere and her deliverance was on point. We were in awe of her. Let's say that she created a magical evening and mdy guests were absolutely stunned with amazement of how talented she is. I am so happy to have had her perform and honestly anyone reading or would want pure talent like this I would highly recommend and you will not be disappointed. I am so blessed to have met her."
Satvinder Gedhu (September 2017)
Our Sangeet singers and musicians will perform for at least two hours long with short breaks but never letting the tempo of the party down, so all you need to do is book, groove and move and have the best day of your life before the big moment arrives.
Find Ladies Sangeet Entertainment in your local area: http://www.findaperformer.net/ladies-sangeet