Oompah Band Hire
Oompah Band Hire – we have bands in all locations!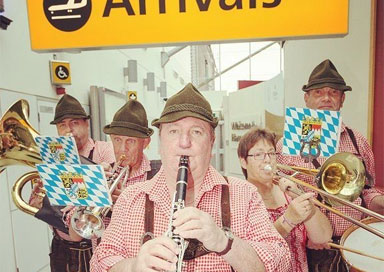 Looking to throw a German festival or a Oktoberfest themed party? Then you will need our Oompah band hire service!  Hire one of our fantastic Oompah bands to play and make merry with as the endless beer flows on and on!
The Oktoberfest can be brought alive at your German themed party with one of our Oompah bands playing typical Bavarian tunes and fully attired in Lederhosen!
Our Bavarian Oompah Bands are complete with brass/horn players, accordions and usually with a frontman/vocalist to entertain the audience with jokes and drinking games.
The energy of our Bavarian Theme Bands will transport you to the Alps where the cool breeze and bustling energy of Germany can be felt.
The Bavarian spirit is to enjoy life to the full and make merry with your friends while gurgling down mugs and mugs of delicious German beer. Our Oompah bands have a wide repertoire up their sleeve which include customary Schunkels to the German folk tunes of Bavaria. They will recreate the Oktoberfest atmosphere and will have the audience swaying, singing and stomping their feet to the beat that is played by our band.
Our Hampshire Oompah Band always go down a storm with our clients – here is some recent feedback:
"What a brilliant performance. We're still laughing now. The comments from our guests has been equally as positive. The swaying, German toasts, games (particular the hat race, stein holding, and bongo drums) plus the conga lines … you were a hit! And despite the hot weather you and the band were most professional." Jen and Stephen

"You did a fantastic job and I had compliments on your entertainment from many of the guests, including the Germans! We all had a lovely time, and thank you all for helping to make it a really special and memorable birthday for my husband." Liza Smith

"The evening exceeded our expectations and the feedback we have had has been remarkable. At one point in the evening I observed that everyone was swaying from side to side even when they were sat on the table. Thanks again and I would have no hesitation in recommending you to anyone who wants to have a 'slightly different party" Gill Shannon
So if you are looking to recreate the Oktoberfest feel or simply enjoy some German themed music, then use our Oompah bands hire service today!
Find a Bavarian band in your local area using our Oompah Band Hire service: http://www.findaperformer.net/oompah-bands