Irish Bands for Weddings
The Best Irish Bands for Weddings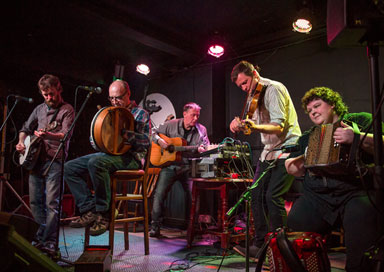 We represent the best Irish bands for weddings and to throw a good Irish wedding or Irish themed event, the choice of music is crucial so we are here to help you choose the perfect act.
Whether that is a solo Irish singer guitarist, up tempo band singing all the traditional songs or an instrumental group playing jigs and reels we can help.
We really do offer the best Irish bands for weddings and have acts in all parts of the UK as well as throughout Ireland.
Irish music means the classics – classic folk tunes and of course Ceilidh music of the hills. Irish music is like the softness of the heather and warmth of the homes withstanding the cold winds yet strong and loud like waves breaking against the jagged rocks. The Irish are known for their love for life and can light the darkest room with their immense love and warmth and no Irish party is complete without songs like  A Life on Open Waters, Whiskey in the Jar or Galway Girl as even the kids will know this one thanks to Ed Sheeran!
We have Irish bands for weddings that can play traditional Ceilidh music as well as modern day numbers and who can lift the mood of any party and let your people dance away to the tunes of the accordion and mandolin strings.
The Barley Mows – Belfast Wedding Band
One of our most popular Irish bands for weddings are The Barley Mows, based in Belfast. They offer trad musicians for the ceremony and drinks reception and then the full band for the evening complete with a DJ.

"The Barley Mows spent our whole wedding day with us and the music was outstanding and truly set the scene for a fabulous day. They played beautiful acoustic church music, kept the guests entertained whilst we had our pictures taken and kept us up dancing until all hours! All the guests commented on how great the music was. We are so grateful as we know it was such a long day for you with it being in Killarney, if we ever have an anniversary party we will be booking you again!" Catherine and Philip Haigh, Killarney

View The Barley Mows profile here
Our band's singers are well versed in the classics and the less well known and can sing everyone's favourite Irish songs. We offer Irish bands for weddings that are perfect for a dance party or bands that can offer a traditional pub style session in the corner of your event.
Our Irish wedding bands are guaranteed to make you want to grab your partner and burn up the dance floor to their upbeat music and jigs. With their collection of folk songs and energetic traditional music including romantic ballads and vintage classic numbers, our band is guaranteed to turn your party into one Showdown like a Hoedown. So get your boots kicking to the mandolin and accordion and dance like the fiddler today!
We also have Irish Dancers and if you are looking for St Patrick's Day entertainment, make sure you book well in advance!
Go to our Irish Bands for Weddings page to find professional musicians in your local area:
http://www.findaperformer.net/ceilidh-irish-folk-bands