French Bands available for French Themed Events
Looking for music for your French Themed Party?
We offer musical entertainment for many internationally themed events from French, Spanish, Greek, Italian, Mexican, Indian and many more.
Here are some of our acts for French themed entertainment:
If you are in the Midlands we have a fantastic trio called Klik who consist of French vocals, guitar and double bass with a starting price of £325.
In London, The French Jazz Collective are a popular choice and here's what are clients are saying about them:
"Thank you for a fabulous performance. You really made the night special. Hopefully we'll be lucky enough to have you with us for our next event too!" Serena Pacifico, Events Co-ordinator at The Gore and The Pelham Hotels.

"The group were great. Weather was kind to us so they were able to play outside. The group created just the right atmosphere for the pre-meal drinks and lots of our guests commented on how good the group were." Father of the Bride, Wedding Reception in Berkshire
For your French themed party in Kent we have a great duo of female French vocals and acoustic guitar called Topaze:
We also have a great French band in Brighton called Les Petites Fleurs: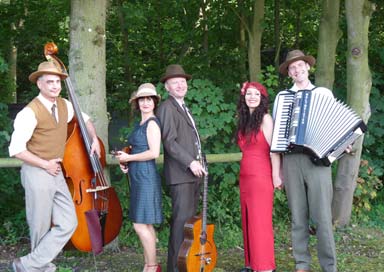 Our clients also loved them:
"You are just WONDERFUL! So talented! Don't hesitate to sing Edith Piaf's songs, your voice is far more beautiful than hers! And your team has a fantastic accordion player. We were fortunate to welcome you both in Alfriston on Saturday. I hope that first concert will be followed by many." Babette

"What a talented pair. Had a fabulous time and came home clutching a signed CD" merci!

"Just a couple of lines to thank you and the rest of the band for the superb music that you sang and played at my 70th birthday last Saturday. I enjoyed it very much and my guests have all said how fabulous it was." Fay Keyworth,