Hire a Greek Wedding Band from Find a Performer
Hire a Greek Wedding Band – we have the best available, it's no myth!
Looking for a Greek Wedding Band?
One of our acts, Apollo, are a very adaptable band who have graced a variety of events up and down the country. They can be hired as a duo or trio and the bouzouki player is also a Greek dancer.
This established and experienced professional Greek wedding band specialise in Greek theme nights, Greek weddings, Greek parties, dinners and dances.
"We were really pleased with the band 100% A The guys sang and played beautiful everyone really enjoyed the time. I would recommend the Greek Wedding Band to any couple who would like to have great time over one life occasion. Moreover it will be an unforgotten experience which remain in our memories forever. Well done guys keep going!!!!" Elizabeth Kolasinska , Wedding Event, Bedfordshire

"The Greek Wedding Band were thoroughly enjoyed by myself & my new husband & just as importantly our guests. The band rose people to their feet to start & nights celebrations got off to a fantastic start. Thank you Greek band. We are very happy with the service provided." Denise Cachia, Wedding Event, Oxfordshire
Get a quote for Apollo for your event: http://www.findaperformer.net/act/92
Whether it's a Greek-themed night at your restaurant, hotel, private function or even your wedding, out Greek bands are experienced, talented and always entertaining!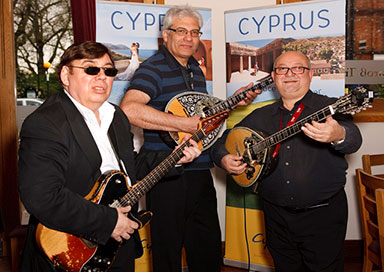 Another of our acts, The Greeks, perform Greek classics such as early smyrnaika, rembetika, archondo rembetica, classical laika and the compositions of the later Greek composers including the 'classical' composers Manos Hadjidakis, Mikis Theodorakis and Stavros Xarchakos.
This vast repertoire of classical and influential Greek music is one of the many reasons this Greek wedding band will always have something to offer your events!
"Thank you for arranging our act. They were prompt, sensitive to the needs of the event and created a perfect atmosphere of background music for a positive wake. The band were professional and talented and I would use both the band and the find a performer service again." Jimmy Kacamer, July 2016
Get a quote for The Greeks for your event: http://www.findaperformer.net/act/974
Go to our website to book your Greek Wedding Band:
http://www.findaperformer.net/search/greek-bands