French Themed Entertainment
Golf Club French Themed Entertainment
On March 27th our fantastic accordionist Harry Barnwell provided the French Themed Entertainment at Hennerton Golf Club. We booked a flamenco guitarist and dancer for their Spanish theme night last year and both nights have been a great success and we are looking forward to providing music for all their themed events over the next 2 months.
The evening was a great success and Harry played wandering around the tables as well as seated with his PA system.
Harry was perfect for the event as he specialises in French themed entertainment. Not only is he is a fluent French speaker but he was able to hand out a few sheets of songs and has everyone singing along with him.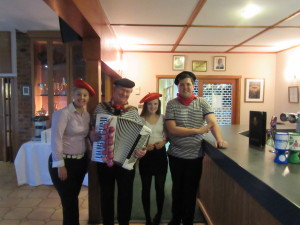 Our other clients have also really liked working with this act:

"Hi Geoff, Firstly, I want to thank you for being so accommodating at such last minute, and also a HUGE thank you to our performer who was unbelievable. Everyone absolutely loved him, he was smartly dressed and played beautifully. He also integrated very well within the party and was exactly what everyone needed to cheer them up! I would 110% recommend him to anyone!" Tanya Prendergast, Nice Agency, October 2016

"He arrived early, he was very professional, he was amicable and highly entertaining. We think he had an extremely good manner.  Would book him again." Lidia and Terence Love May 2015